Weather in Croatia in October
blog
A Guide to the Weather in Croatia in October: What to Expect on a Luxury Yacht Charter?
Autumn smooths out the heat and brings peace to Adriatic's towns, coves, and bays—perfect time at sea and warm enough to enjoy swimming. As you prepare for a luxury yacht charter to travel along the stunning coast of Croatia in October, it's essential to understand what kind of weather to expect. With sparkling turquoise waters and breathtaking views, Croatia promises an unforgettable experience. The early autumn month of October brings a change in the atmosphere, transitioning from warm and hot summer days to cooler temperatures.
Weather in Croatia for October
Croatia experiences a pleasant and mild climate in October, providing ideal conditions for exploring the Adriatic Sea. Temperatures typically range from 15°C to 20°C (59°F to 68°F), making it comfortable to indulge in various outdoor activities. While occasional rain showers may happen, they are usually short-lived, giving way to clearer skies and sunshine. Croatia in October travel offers endless possibilities, whether you are planning to soak up the sun in picturesque bays, explore islands, or indulge in delicious local cuisine on your cruise. The quieter atmosphere also means fewer crowds, allowing you to enjoy the beauty of the Croatian coastline at your leisure. If you're planning a trip to Croatia and wondering about the best time to go, check out our blog post: When is the best time to cruise in Croatia? for detailed information on the different seasons and travel periods.
7 Reasons to Plan Your Luxury Yacht Charter Cruise in October
October is one of the best months of the year for many travelers who visit Croatia in years, and we will tell you why. One key point is the deserted bays and beaches when the school holiday finishes. The second half of September is an outstanding period as well. Look forward to deserted anchorages, still-warm seas, and low off-season prices. The sun is less intense, but it can still be hot during the day, the sea is still beautifully warm, and the nights are more relaxed and more enjoyable for sleeping because no AC is needed, like in the top season. The harbors on islands and towns are virtually deserted.
#1. The Ever-Warm Croatian Sea
Sea temperature in October?
What is the water temperature in Croatia in October?
Even as summer fades, the sea is still beautifully warm in September and October, with water temperature on the Adriatic ranging from 20 to 23 degrees — enjoyable and refreshing.
Croatia boasts over a thousand islands and islets, each with unique charm. In October, you'll have the opportunity to easily explore these islands as the weather is still favorable for day trips, swimming, and discovering secluded coves.
#2. Explore Dubrovnik and Croatia's Hidden Gems Crowd-Free
Croatia without the crowds
Experience the Beauty of Dubrovnik and Other Hidden Treasures of Croatia Without the Crowds!
If crowds of tourists and jam-packed bays are your idea of a vacation nightmare, then luxury yacht charter in October travel in Croatia is a dream.
While towns along the Adriatic coast are still open, they're less congested than during the peak season. Have you never visited Dubrovnik, Hvar, or Trogir?
Instead of shuddering with summer crowds, you can wander leisurely in the autumn, soaking in their rich historical atmosphere.
#3. Wine Harvest Season in Dalmatia Begins
Sampling Croatia's Finest Wines at Local Wineries
The Wine Harvest Season Has Begun, and You Can Explore Dalmatian Wineries and Sample Some of Croatia's Finest Wines.
As vibrant autumn colors adorn the Croatian landscape in October, a truly enchanting experience awaits wine enthusiasts and travelers alike. This is the month when the annual wine harvest kicks off in Croatia, and it's the perfect time to embark on a journey to the heart of Dalmatia's winemaking heritage.
Visiting Dalmatian wineries during this season invites you to savor the fruits of this labor-intensive process firsthand. From the lush vineyards to the charming cellars, you can immerse yourself in the rich tradition of Croatian winemaking. Taste the exquisite wines produced from indigenous grape varieties, each sip reflecting the region's unique terroir. The warmth of Dalmatian hospitality combined with the allure of Croatian wines creates an unforgettable experience for anyone passionate about culture and fine wine.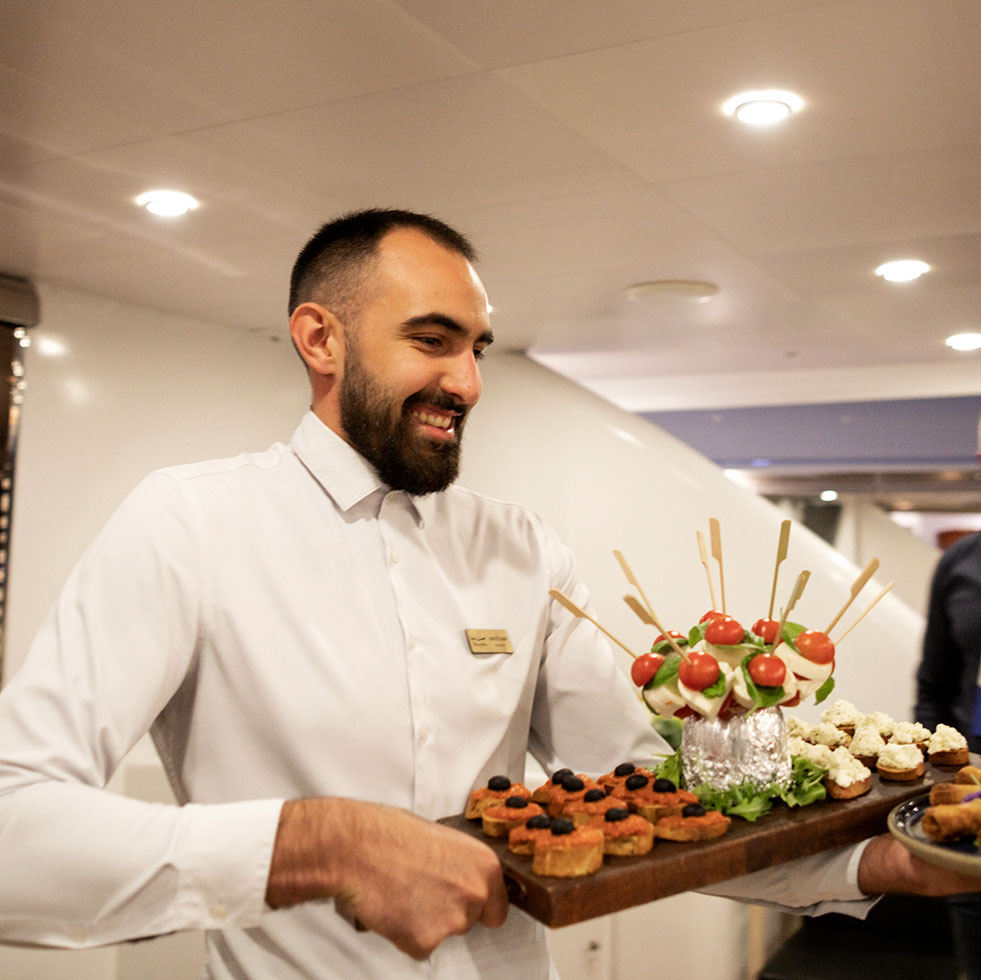 #4. TAKE ADVANTAGE OF TRUE CROATIAN HOSPITALITY
Experience Authentic Croatian Hospitality
There's a secret perk to cruising on a yacht in Croatia during the off-season, and while the locals might not openly admit it, it's unmistakably there.
Whether at the marinas, cozy cafes, or elegant restaurants, you're greeted with warmer smiles and more attentive service. As the tourist season winds down, a more relaxed, genuine hospitality is in the air.
With the pressure to maximize the high season's profits off their shoulders, the locals seem to revert to their natural, welcoming selves. In the off-season, the locals appreciate the tourists more.
#5. Active Adventures in Croatia During October
Activities in October
If you're an adventure enthusiast, autumn in Croatia offers ideal conditions for activities like hiking, mountain biking, and kayaking. You can combine your yacht charter cruise with on-land adventures and explore Croatia's diverse landscapes.
The pleasant weather and mild temperatures during this season create the perfect backdrop for these adventures, allowing you to immerse yourself in Croatia's breathtaking landscapes fully. Furthermore, if you're considering a yacht charter cruise along Croatia's stunning coastline, you can seamlessly integrate these on-land adventures into your itinerary. Picture yourself sailing along the crystal-clear waters of the Adriatic Sea, anchoring at picturesque islands, and then venturing inland for thrilling hiking excursions or exhilarating mountain biking escapades.
This unique combination of on-water and on-land exploration allows you to experience Croatia's natural beauty from all angles, making your trip an unforgettable adventure filled with diverse landscapes and exciting activities. So, whether you're drawn to the sea or the mountains, Croatia in autumn offers a dynamic and fulfilling experience for adventurers seeking the perfect blend of relaxation and excitement.
#6. Romantic Retreat
Autumn's Stunning Sunsets
Autumn's cozy atmosphere, stunning sunsets, and serene settings make it an ideal time for a romantic getaway. Whether celebrating an anniversary or simply seeking a romantic escape, a luxury yacht charter in Croatia in October travel will create cherished memories.
Each evening, you'll be treated to breathtaking sunsets that paint the sky in vivid shades of orange and pink, setting the scene for romantic moments and unforgettable photographs.
Whether you're strolling hand in hand through ancient streets, sharing a candlelit dinner under the stars on a private beach, or simply basking in each other's company on the yacht's deck, every moment will be infused with romance and the magic of Croatia's autumnal beauty.
#7. Value for Money
Special Offers
Luxury yacht charters in Croatia often offer better rates during autumn than in the peak summer season.
You can indulge in a luxury yacht's lavish amenities and services while enjoying a more budget-friendly experience. So, if you're seeking a luxurious and serene yachting adventure, October is the ideal time to explore Croatia's picturesque coast, vibrant culture, and hidden gems from the comfort of your private charter yacht.
October is the end of the yacht charter rental season. At this time, Croatian cruises are coming to an end, and there are fewer people around. This month may be a better time to go on a cruise because both prices and the number of people going may decrease. Also, even when the temperature drops, there will still be plenty of sunny days with steady breezes, and the sea is usually still warm enough for a refreshing bath.
October is an excellent month for cruising, sightseeing, and other outdoor activities like hiking and cycling. This lets you fully enjoy the natural beauty of Croatia.
Have these tips convinced you to charter a luxury yacht in Croatia in autumn?